Carrot and Sweet Potato Puree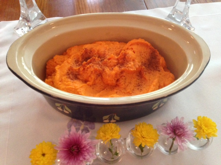 Submitted by Janet Eckhoff
This is one of my favorite side dishes for holiday turkey or ham dinners. It tastes terrific, adds a nice color contrast to the plate and is consistently a second helping item. I usually double the recipe for a crowd of twelve. I evolved this recipe from one in an old Silver Palate cookbook but I eliminated about 7 tablespoons of butter and all the sugar. I don't think it impacts the taste and makes it so much healthier.
---
Ingredients:
Four large sweet potatoes or yams, (organic if you can afford them)
1 pound bag of fresh carrots, (organic if you can afford them)
1 tablespoon butter
½ cup Crème Fraiche* – you can find this at Whole Foods or make your own as it is quite easy
Dash of nutmeg
*Cream Fraiche :
Mix equal parts of low fat sour cream and whipping or heavy cream.
Cover and let it sit on your counter until it thickens. Then refrigerate. This can also be added to fresh fruit or pie.
Directions:
Cut a line in the top of each potato and bake in a 350 degree oven until a fork slides into center of potato easily, about an hour.
Cut carrots into 3-4 inch length and max half inch thickness.
Put into a large saute pan and add water to almost cover and the butter.
Bring to a boil and then lower the heat and cook uncovered until tender and water has evaporated, about 30 minutes.
Mix in batches in your food processor – half the potato (peeled of course) and half the carrots and ¼ cup of Crème Fraiche*.
You want the mixture to be completely free of lumps.
Put into an over proof container and top with nutmeg.
Bake for about 30 minutes until hot.
You can make this a day or two ahead and just pop into the over.