Submitted by Susan Dugga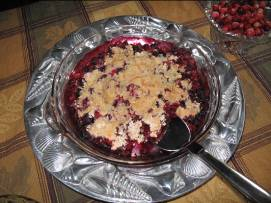 n Arayas
Originally found in the J. Bildner & Son cookbook, first published by Doubleday in 1988.
This recipe can also be divided into small ramekins to bake as individual servings for a holiday buffet. Serve warm with cream, whipped cream, or ice cream (depending upon how decadent you feel!)
Ingredients:
1 teaspoon butter for baking dish plus 6 tablespoons
2 cups cranberries, fresh or frozen
2 cups blueberries, fresh or frozen
1 tablespoon lemon juice
2 tablespoons Cassis
1 cup flour, unsifted
1 cup sugar
1 large egg
¼ teaspoon salt
Cream, whipped cream or ice cream for topping
Directions:
Preheat the oven to 400 degrees.
Using 1 teaspoon butter, grease a 10x6x2 inch baking dish. Place the remaining 6 tablespoons of butter in a small saucepan and melt over moderate heat. Remove and set aside.
In a medium bowl, combine the cranberries and blueberries with the lemon juice and Cassis. Spread the berry mixture in a layer in the prepared dish.
In another medium bowl, combine the flour and sugar. In a small bowl, beat the egg until slightly frothy. Add the beaten egg and the salt to the flour mixture. Using a fork, mix the batter until it has the texture of coarse meal (somewhat crumbly.)
Spread the batter over the mixed berries. Drizzle the melted butter over the top. Bake for 30 minutes, or until golden brown.