Welcome to the Cape Cod Poetry Group page
---
Featured Poets
Rosalind Pace gave a wonderful spotlight reading at the Cape Cod Poetry Group's July, 2015 Poetry & Music Event at the Truro Library.
read more
About Poetry
Quotes
"When I am at a good poetry reading, I am carried deep into my own interior; I think of times and people and events that are far away, and I feel them again."
— Tony Hoagland
Commentary & Essays
Open Mic Reader Guidelines
by Barry Hellman
Suggestions for maintaining audience interest, attention, and enjoyment:
1. Bring poems that can be followed, understood, and appreciated without needing to see them on the page. A poem may be well written, but if it's too "dense", complex, experimental, obscure— or too long— it's not a good choice for this kind of event.
2. Don't jump right in. Start by relating to the audience. Introduce yourself and — briefly — say something about the poem before you read it.
3. Read slowly, don't mumble, keep your energy and voice level up. Read as if you're speaking to someone in the last row. And be sure to say the last line of the poem clearly—don't let it drop off.
4. Respect announced time limits.
5. Study the readers you like best and do what they do!
Cape Cod Poetry Group News
Barry Hellman's poem "After Last Night" has been selected as the Brewster Ladies' Library February Poem of the Month and will be on display near the front entrance. Many thanks to project director Angela Howes!
Great news!
The Wellfleet Cultural Council has approved the Cape Cod Poetry Group's 2016 grant application and will be funding honorariums for the poets, musicians, and actors performing in our Annual Poetry & Music Celebration of National Poetry Month at the Wellfleet Library.
"This program is supported in part by a grant from the Wellfleet Cultural Council, a local agency which is supported by the Massachusetts Cultural Council, a state agency."

Many thanks to members of the Cultural Council. And also to Jennifer Wertkin, Director of the Wellfleet Library- she will be contributing library funds as well in support of this annual event. This is the 3rd year of support from both sources!
And I'm grateful too for the poets, community people, and library patrons who've supported the performers at this annual event with a full house and standing ovations.
Announcing the launch of Poetry Sunday with Mindy Todd on WCAI

WCAI is giving poetry a place in its weekly line-up. Every Sunday morning during Weekend Edition the work of a different local poet will be featured. Selections have been made for the first round of Poetry Sundays— submissions will re-open in the spring.
WCAI Local National Public Radio for the Cape, the Coast, and the Islands: 90.1 / 91.1 / 94.3

For more details visit: http://capeandislands.org/topic/poetry-sundays

Cape Cod Poetry Group
founded, curated and hosted by Barry Hellman
Barry Hellman is a clinical psychologist who leads workshops in the art, craft, and performance of poetry.
He also co-curated and hosted The Poets Corner Poetry & Music Open Mic at the Cultural Center of Cape Cod in South Yarmouth, and The Poetry, Music, & Workshop Series at the Chapel In The Pines in Eastham.
Barry's poems have appeared in literary journals, anthologies, broadsides, playbills, and in a chapbook, The King Of Newark, published by Finishing Line Press.
Email Barry Hellman Visit the Cape Cod Poetry Group on Facebook
Poetry Readings & Events on Cape Cod
Click HERE for our regularly updated schedule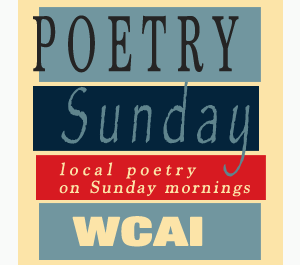 Each Sunday morning WCAI features a different local poet.
Tune in every Sunday morning at 8:34am

WCAI Local National Public Radio for the Cape, the Coast, and the Islands: 90.1 / 91.1 / 94.3
Click this link to listen to WCAI's weekly Poetry Sunday Podcasts