Nicola's Sunday Morning Crepes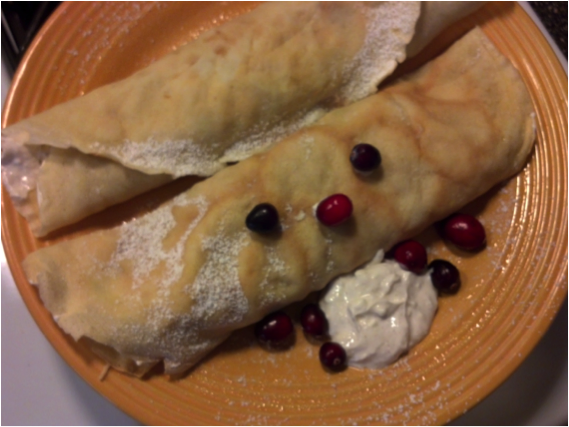 Submitted by Nicola Burnell
These crepes are a wonderful way to start your Sunday morning. They will keep your belly full right through the afternoon so they make an excellent brunch.
This recipe takes a little time to prepare but the cooking apples, squash, cranberries and spices will fill your kitchen with a delicious aroma worth getting out of bed for. The creamy filling makes a great (healthy) alternative to whipped cream or ice cream and blends beautifully with the fruit! When possible, purchase locally grown squash, apples and cranberries – they taste SO much better!
To make the butternut squash, apple & cranberry filling:
1 butternut squash (peeled & diced into 1/2 inch cubes)
1/2 cup dried (or 1 cup of fresh) cranberries
3 apples, (not peeled)
1 cup water
Pinch of salt
Generous sprinkles of cinnamon & Oriental Five Spices (to taste)
2 tablespoons brown sugar
Boil the butternut squash in a pan with 1 cup of water until the squash begins to get soft (about 10 mins.)
Add the cranberries to the squash and cook until they start to pop (if using fresh) or for about 2 minutes if using dried cranberries.
Add the apples, Cinnamon, Oriental Five Spices & brown sugar then cook for an additional 10 minutes (or until the squash and apples can be easily pierced with a narrow knife.)
Add a little more water if necessary to keep just the bottom of the pan covered
Once cooked, let the mixture cool for a few minutes then use a blender (or potato masher) to turn the mixture into a lovely mushy paste
To make the crepes:
2 eggs
1/2 cup water
1/2 cup milk
1 cups flour
1/4 teaspoon salt
1/2 teaspoon of Pure Vanilla Essence
Sift flour & salt into a large bowl.
In a smaller bowl blend the eggs, vanilla essence, milk & water
Pour the liquid mixture into the center of the flour and stir (in a figure 8) until all the flour has been absorbed by the liquid. Texture should be runny.
Pour enough crepe mix to thinly coat a hot frying pan and cook for about 1 minute – flip the crepe over and cook for another minute.
You can keep the crepes warm by placing them between two plates while you finish cooking the rest of the mixture. (If you have some crepes left over you can freeze them in a large freezer bag between sheets of parchment paper)
To make the creamy filling:
1/2 cup Greek yoghurt
1/2 cup whipped cream cheese
1 teaspoon cinnamon sugar
Blend the ingredients together to form a thick paste (leftover filling can be refrigerated)
To create the crepes:
Using a soft spatula thinly coat one half of the crepe with the cream filling and coat the other half with a thicker layer of the squash/apple/cranberry filling.
Roll the crepe up, sprinkle with confectioner's sugar (optional) and decorate with a small dollop of the cream filling and fruit garnish (optional).
No syrup required! Enjoy!