by Mary-Elizabeth Briscoe
It's hard to believe that my sister Christine and I have been living in Dingle for nearly seven months already. Time is passing so quickly.
We have mastered all the appliances and I'm getting used to the cooking instructions on various food packages. They don't really put specifics on them: just fill a pan with water, add an amount of such and such and cook. Now I understand where my mother got her cooking habits. Anytime I ask her, "What temperature should I cook this? For how long?" her answer is always, "Around 350 degrees until it's done."
In spite of this, we are managing to eat quite well.
One thing we haven't figured out is why we aren't in better physical shape. As we have no car we walk everywhere – and this is hilly country. In addition to walking for necessity, we head out several times a week for hill walking or hiking, which lasts around four hours. We walk and climb with no problem. It's when we get home that the pain begins.
If you could see the two of us in the evening, getting up from our chairs in the living room, you'd think we were ninety year olds. We're crippled. Feet, hips and backs aching and stiff, as if we'd never walked before. Some have suggested it's the damp air and the hard ground. At least no one has suggested it's our ages. It's ridiculous. We're shuffling around the house in slow motion, uttering gasps and moans as we go. Yet somehow we are ready to go again the following day.
The walks themselves are amazing. The light here is breathtaking, no matter the weather. People on the Cape will understand this as Cape Cod, too, has amazing light. It's no wonder artists of all genres find themselves looking to this place for inspiration. Every walk we take offers different light through different weather conditions. Yesterday's walk is a great example.
As we prepared to head out in search of Garfinny Bridge, an historic site that we have not been able to find on previous hikes, sunny skies had turned dark and rainy. Not unusual. In fact, it's often dark and raining at the front of the house while sunny blue skies can be found at the back of the house. So we waited for the light to change, as it does, even more quickly here than in the Northeast of the United States.
Once the sky turned back to just cloudy we started out. We had no specific directions, only a guess based on dropping the little yellow guy onto the Google earth map, and knowing where we hadn't found it on previous hikes.
In addition to the bridge, we'd learned of a burial ground close by so of course we were even more determined to find it. Christine and I have a love of old burial grounds and cemeteries, but that's another story.
We'd walked and talked, as we always do, me joking that I'm going to write a book about the little life lessons learned from Christine on these walks. She's always positive – never is her glass anything but flowing over. Annoying at times, but the truth is, I'm just as positive underneath this hard shell exterior of mine.
My time here is helping me to peel away the hard edges and allow for softness. A work-in-progress, Christine will no doubt agree. As we continued on our journey, we'd agreed that even if we didn't find the bridge and burial ground it was good enough to be walking somewhere we had never been before.
The wind was, as they say, 'fresh and gusty' while we continued to walk, climbing higher and higher in altitude. The view to our right of Dingle harbor opening up to the ocean had been beautiful. Hussey's Folley, a castle ruin, stood majestically on the banks of the harbor while the old lighthouse on the rock formation across the harbor could just be seen.
Grey clouds hung in the sky but streams of sunlight broke through and shone down onto the water, leaving a heavenly shimmering light in spots on the ocean. Not having carried my camera, I had only my cell phone to try and capture the beauty. After close to two hours of walking I'd pointed ahead and shouted, "burial ground!" We'd quickened our pace and congratulated ourselves at having actually found it.
Nestled in a valley surrounded by mountains to the front, back and left, and with the ocean to the right, was the small burial ground. The sun was shining, allowing the stones to cast shadows on the rain-glistened grass. We'd wandered separately around the wet, uneven grounds taking pictures.
Looking behind us, I'd noticed very dark, menacing clouds moving quickly over the mountain toward us. Black wisps of rain bands fell from them, promising to soak us in a matter of a few minutes. "We should see if there's a place to hunker in away from that rain," I'd yelled to Christine as I pointed to the sky.
We'd each found the sealed entrance to two mausoleums; the only choice. The overhang of the roof was just enough to cover most of us if we crouched down and leaned close into the wall. I couldn't help but laugh at how many people would be creeped out by our choice of shelter, which, it turns out, was not sufficient.
Suddenly the wind had picked up significantly and started hurling balls of hail around. My arm, not quite under cover, soon became thick with white, as if it were snowing. Rain drops had started dripping from the roof, soaking me. I'd popped up and gone to Christine's spot only to find her dry as a bone and nestled under a rain poncho she just happened to have with her. She did offer to share it but I was already soaked.
The hail got worse and the whipping wind became cold so I'd taken off through the tall, wet, uneven grass toward a lone tree at the corner of the land. Grass and pricker branches, like barbed wire up to my thighs, had made my trip slow and painful. Finally, after managing not to fall or get hung up on prickers, I'd made it to the tree, crawled under the branches and crouched there for what had seemed hours.
It was a Holly tree. Plush, deep green, wet, shiny leaves had kept me from getting too much wetter. I'd watched the hail swirl around in the wind, like debris in a tornado, until out of nowhere, the sun was shining again. Soaked, Christine and I had laughed about our adventure and agreed to continue on in search of the bridge.
It wasn't long before I'd spotted a white sign in the distance, which, I was certain, indicated the spot of the bridge. I was right. We'd found Garfinny bridge at last! After few minutes of picture taking, we'd dragged our soaking wet selves back in the direction of Dingle. Home.
In case you're wondering, we are still hobbling around in pain today, and loving every minute of our adventure here.
Photographs published courtesy of Mary-Elizabeth Briscoe
---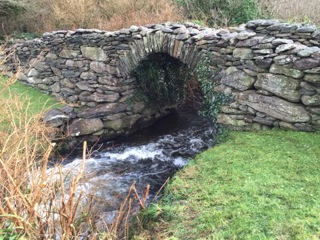 Garfinny Bridge
---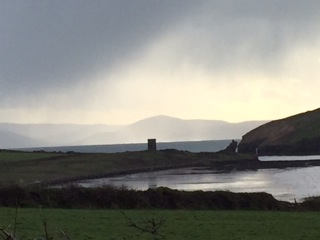 Hussey's Folley
Mary-Elizabeth Briscoe, LCMHC, CCTP is a licensed mental health counselor currently on sabbatical from her private psychotherapy practice in northeastern Vermont.
She is living on the Dingle Peninsula, Ireland, where she will be writing her second memoir chronicling her time there.
Mary-Elizabeth lived and worked on Cape Cod for many years prior to her move north.
She has a master's degree from Lesley University and is a Certified Clinical Trauma Professional.
She has also worked as a Lecturer for Springfield College School of Professional and Continuing Studies St. Johnsbury, Vt. campus.
Mary-Elizabeth can be reached at maryelizabethbriscoe@gmail.com
Or visit her website