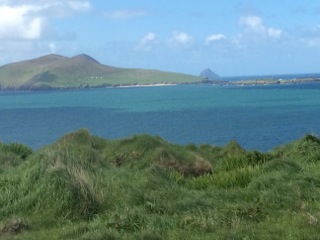 Dingle Dreams: Why 'Now is the then we were waiting for'
by Mary-Elizabeth Briscoe
At first glance, ours might read like the typical bucket list story of two middle-aged women packing up and moving to a foreign country. But it's not.
Living in Ireland was never something my sister Christine and I hoped to do one day before we die.
t wasn't something to tick off the wish list of "maybe someday" events. Instead, the idea is one deeply rooted in the connection we each have for the tiny town of Dingle, on the southwest coast of Ireland.
For me, it started eighteen years ago, on my first visit to Ireland. As the plane approached the runway, I saw patchwork green fields speckled with white dots that turned into sheep as the plane came to rest on the tarmac.
I noticed my body relax and soften as tears welled in my eyes. "Home," I whispered.
Something ancient had stirred deep within and was awakened; a spiritual connection to the place, the history, its people. Some have suggested perhaps a past life. Maybe. All I know is that every time I'm in Ireland I have the exact same experience.
I can't explain it or even understand it. I just know I am home.
Christine tells me that she hears the echoes of Irish myth, legend and history long past, and yet also present and vibrant in living people and places. She says that she feels not just grounded, but rooted in the legends and ancient history there.
It is sacred. We both experience it and are one with it. We aren't tourists seeing the people and places from a spectator's position. We are PART of the people and the places we visit. Like Yeats, we are of Ireland.
In May of this year, Christine and I traveled to Ireland together and found ourselves in Adam's Pub, every afternoon, for a Paddy's Whiskey. On one particular dreary day, I sat writing in the pub while Christine wandered around town.
She returned in time for our Paddy's and handed me the book I'd wanted earlier but hadn't bought for myself.
The book was about two women living on the Dingle Peninsula who wrote to one another about the day's weather, for one year.
"Hey, look," I said, showing her the author's biography, "This one woman is from the states. She rented her house out for the year that they wrote this book."
"Really? Hmmm…" Christine said, as though she were processing something she herself was not yet aware of.
Her mind works that way. Sometimes ideas just come to her, seemingly from nowhere in particular, but they bubble away just under the surface.
Christine continued to read the Irish Times newspaper while I flipped through the pages of my new book.
At once we looked at one another.
Your Future Starts Here, the newspaper ad read.
"A sign?" I asked.
"Well, I think maybe it is telling us something." She sipped her whiskey, taking the time needed for the idea to come fully to life. "We could do it."
I leaned forward in my seat, waiting to hear what it was that "we could do."
"Live here. For one year. We could take a year off and move here," she suggested.
"Yes. That's a perfect plan. We could experience the seasons of weather and culture, get to know the people, the language, all of it," I said, knowing in every cell of my being that this was the next part of my life's journey.
I felt ready to start that very moment.
Fortunately for me, Christine does not share my impulsivity. She is much more practical and level headed.
We often joke that I'm the right part of her brain and she's my left. That we are, in fact, one person that somehow got split in two; but that's another article.
"Yes! This is the very thing we are meant to do! There is so much to be learned, experienced, and understood. It's absolutely what we must do."
It was obvious that our hearts and souls were linked in this very spiritual, transformative journey in a way we haven't yet begun to fully understand. The question before us now was when and how to make this plan happen?
There was no doubt for even a second that we would do it. Only the logistics needed to be worked out.
Would we wait until we were closer to retirement age? Would we leave while our elderly parents are still alive? And what if something happened to them while we were away? What would we do with our homes? Our jobs?
Just as quickly as the idea had come, the confirmation followed.
I hate to put too much stock in quotes I read from beer coasters in Irish pubs, but this one came as no coincidence: Now is the then we were waiting for.
Life is precarious and one never knows from day to day what will happen, so we agreed not to wait for some "perfect" time. The perfect time was at hand.
After all, Christine reminded me, one of my favorite songs is The Cape, written by Guy Clark, Susanna Clark and Jim Janosky, and recorded by Kathy Mattea.
It tells the story of someone who, full of energy, spit and vinegar, jumps off garage roofs with a flour sack cape around his neck because he doesn't know he can't fly! It's filled with great imagery about taking chances, trusting your cape and, of course, flying.
This is what I wanted. This is what we both wanted.
We do, of course, have to spend some time getting everything in order before we can leave, but we will spend our year in Dingle!
We will experience life there and we'll share our stories along the way.
After all, storytelling – myth and history – is part of this journey.
Mary-Elizabeth Briscoe, LCMHC, CCTP is a licensed mental health counselor currently on sabbatical from her private psychotherapy practice in northeastern Vermont.
She is living on the Dingle Peninsula, Ireland, where she will be writing her second memoir chronicling her time there.
Mary-Elizabeth lived and worked on Cape Cod for many years prior to her move north.
She has a master's degree from Lesley University and is a Certified Clinical Trauma Professional. She has also worked as a Lecturer for Springfield College School of Professional and Continuing Studies St. Johnsbury, Vt. campus.
Mary-Elizabeth can be reached at maryelizabethbriscoe@gmail.com
Or visit her website